Turn your device in landscape mode.
THE WORLD'S ONLY
TRANSPARENT SUBMARINE

WITH 360-DEGREE INFINITY VISION
VinWonders Nha Trang

09:00 - 11:00

Only from VND 950,000
BOOK VINWONDERS NHA TRANG TICKETS TO ENJOY VINPEARL SUBMARINE NHA TRANG
The world's first and only transparent tourist submarine that provides visitors with an opportunity to live as inhabitants of the deep ocean
As the first transparent tourist submarine in the world with a uniquely designed and 100% transparent acrylic hull, Vinpearl Submarine Nha Trang offers visitors a unique experience with infinity vision and a great opportunity to be fully immersed in the deep and magical space of the ocean.
An all-encompassing experience journey above and below the sea
- Take your breath away when the submarine submerges below the surface.
- Enjoy watching the mysterious ocean world with a shipwreck and natural habitat.
- Watch divers feed the fish.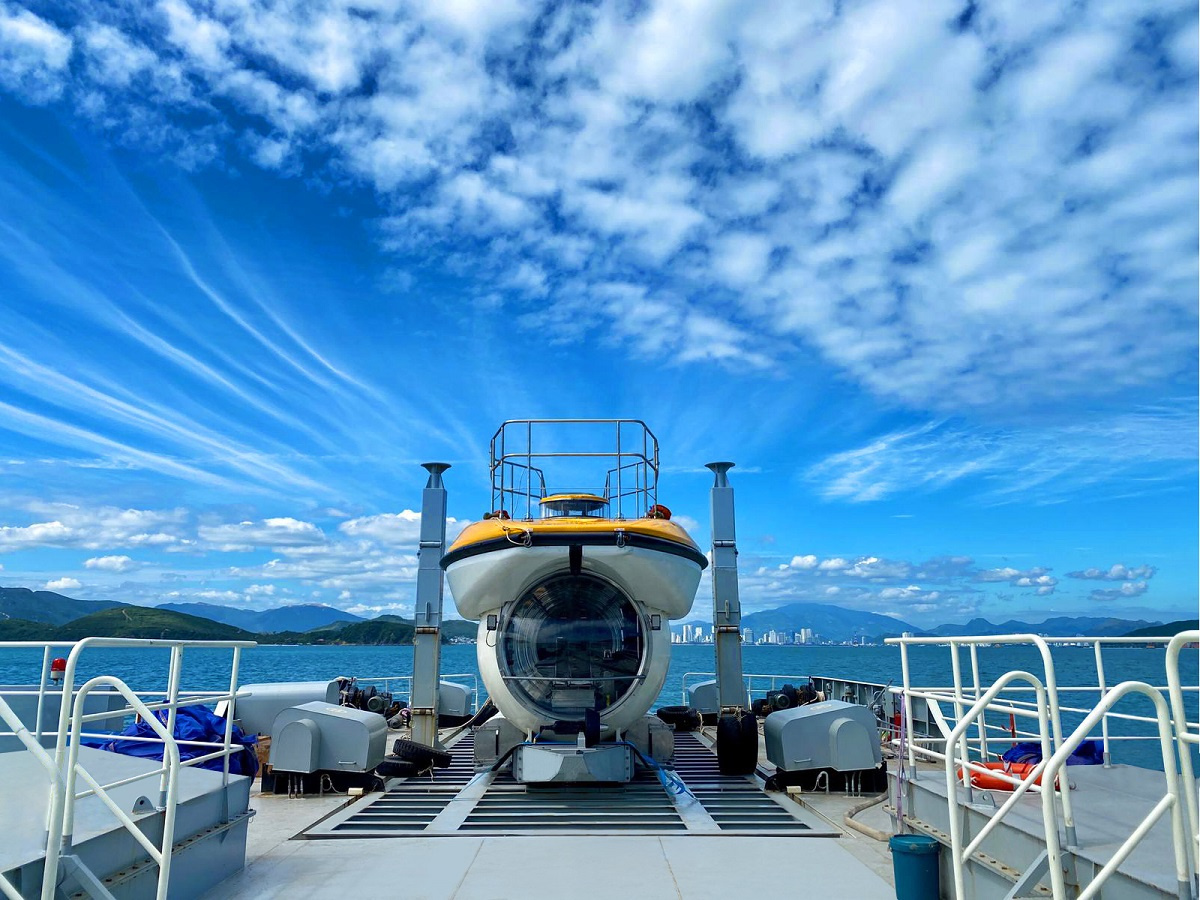 The submarine was built by Triton, the world's elite and prestigious tourist submarine builder.
- Triton Submarines is the most experienced submarine builder in the world. It is also the designer of DSV Limiting Factor, which set a record for the world's deepest dive in early 2019 at the bottom of the Mariana trench.
- Vinpearl Submarine Nha Trang is an electric-powered submarine and weighs nearly 55 tons - as heavy as a blue whale! As an environmentally-friendly vehicle, it generates almost no noise, carbon dioxide emissions, wastewater, nor any negative impact on the environment.
Search for the shipwreck
On the journey to explore the Nha Trang seabed, you will be waited for by a shipwreck feat, where you can take second-to-none photos. Besides, this is also a peaceful home to coral reefs and hundreds of fish and sea creatures.
Admire antiquities
Around the shipwreck site lay precious antiquities symbolizing the lands where the ship once visited. You will have an opportunity to admire old Chinese vases, cups, gold ingots, and treasure chests. If you are interested in Egyptian Pharaohs, a vast collection of antiquities such as busts, masks, and sculptures are available for you to see and admire.
Take photos that will get thousands of likes
Take photos that will get thousands of likes at "milestones" for pioneers.
Admire the scenery
Appreciate the gorgeous landscape of Nha Trang Bay during the journey to the dive site.
Enjoy refreshing beverages
Enjoy refreshing beverages, ice cream and cakes at the windy bar; indulge yourself with impressive gifts at Vinpearl Submarine Nha Trang souvenir store.