Turn your device in landscape mode.
REASONS TO VISIT VINKE & VINPEARL AQUARIUM
01
A space dedicated to career guidance for children
This is a "learning-through-play" environment for children to explore their dream jobs for themselves. VinKE offers children an opportunity to directly experience different careers, learn and acquire knowledge about their favourite fields, and become more confident and sociable in communication.
02
An aquarium of records
Not only one of the first aquariums in Hanoi, but Vinpearl Aquarium Times City is also the holder of many records in Vietnam.
03
A massive indoor play area
VinKE guarantees a quality time for children to learn through play with more than 200 arcade machines and various fun games within a large indoor play area. Must-see events
Special events
Monday - Friday: 11:00 - 11:10 | 15:30 - 15:40 | 20:00 - 20:10
Saturday - Sunday: 11:00 - 11:10 | 15:30 - 15:40 | 17:30 - 17:40 | 20:00 - 20:10
MAIN TANK
Where visitors can admire and take photos with gorgeous mermaids swimming around
Daily: 16:00 - 16:30
PENGUIN AREA
Daily: 16:30 - 17:00
REPTILE AREA
Daytime events
Fish Feeding Show
Daily: 10:30 - 10:45 | 17:00 - 17:15
Venue: Main Area
Have you ever wondered how happy the colourful sea creatures will be at feeding time? Discover the answer for yourself at Vinpearl Aquarium Times City in the Fish Feeding Show. Don't forget the show schedule!
Explore the meal of turtles
Explore the meal of turtles
Time: 16:00 - 16:30
Venue: Turtle Area
Experience feeding adorable turtles yourself at the Aquarium Cave.
The must-play games you do not want to miss
Freshwater Fish Area: The starting point of an exciting journey through the tropical forest, home to fish species native to the Amazon or Mekong Rivers, such as Arapaima gigas, Giant barb, and Spotted gar.
Freshwater Stingray
Prepare to witness freshwater stingrays at Vinpearl Aquarium, as stingrays live not only under the oceans but also in streams and rivers. These colorful creatures will indeed trigger children's curiosity.
Giant Barb
Vinpearl Aquarium Times City promises to surprise you with an interesting encounter with a representative from the Mekong Delta, the giant barb. Despite being a member of the carp family, the giant bard sets itself apart with its massive size and superb swimming ability. Fun fact: as intimidating as they may seem, these large animals prefer cohabitational living.
Koi Fish
Coming to the Freshwater Fish Area, don't forget to visit the Koi fish - a symbol of Japan. Each fish has its own skin color patterns, including white-black, red-black-white, red-white, and red-yellow. Watching these majestic creatures gliding underwater is undoubtedly a unique experience that can hardly be found anywhere else.
Dragonfish (Asian Arowana)
Going through the arapaima area, you will stumble upon the world's most expensive fish, the dragonfish. The name originated from how its body meanders while swimming, just like a dragon in Asian legends.
Arapaima
Originated in the Amazon wetland, the arapaima can grow up to 2 meters in length and will surely leave visitors in awe after setting foot into Vinpearl Aquarium Times City.
What could be more genuine than watching different fish species such as giant groupers and sharks dancing overhead in a 90m-long transparent barrel vault in the ocean? It is a must to try!
Aquarium Specimen Exhibition
Be ready to be struck by the beauty of more than 200 specimens of aquatic species from all over the world at this specimen exhibition area with the aid of striking 3D effects. Your knowledge of marine animals will be significantly enhanced through this fun experience. With magical lighting space and interesting behind-the-scenes footage, this place will definitely leave you with an unforgettable impression.

There are a vast collection of specimens on display, including corals, fish, snails, and penguins. All are derived from living organisms that have been treated with chemicals. This practical experience will enrich the visitors' knowledge in an engaging way, especially for children.
Giant Grouper
The giant grouper is the largest known bony fish found on reefs and is considered the symbol of Queensland, Australia. Only in Vinpearl Aquarium Times City will you have an opportunity to admire their beauty as they swim over your head.
Sixgill Stingray
Unlike the freshwater stingray, the sixgill stingray is a sea inhabitant with a flat body and extended belly. You will feel like you are watching a real-life 'Finding Nemo' movie when passing through the aquarium tunnel and surrounded by these lovely animals.
Penguin
Proud to be the first zoo in Vietnam to successfully hatch a penguin chick in a semi-natural habitat, Vinpearl Aquarium Times City guarantees a super unique experience for visitors whilst admiring the beauty of adorable penguins freely swimming and playing within the Aquarium.
It is the home to a variety of unique and rare amphibians and insects such as water monitor lizard, green iguana, and emperor scorpion that can only usually be seen in books.
Chilean Rose Tarantula
As one of the world's largest spider species, the Chilean rose tarantula can live up to 10 years. It will surely amaze visitors at Vinpearl Aquarium Times City.
Emperor Scorpion
Despite its large size (up to 23 centimeters in length), the emperor scorpion is actually not very venomous. What are you waiting for if you wish to see the legendary 'assassin' animals from ancient Egyptian tales? Come here without delay!
Green iguana
Due to its massive size (one of the giant reptiles globally) and scary-looking, thorny skin, the green iguana may cause a curious yet anxious feeling for first-time visitors. However, as you get close to them, you will discover that they are actually very peaceful animals who feed on vegetables and fruits.
Elongated Tortoise
Vinpearl Aquarium Times City is proud to be the shelter for elongated tortoises - one of the most endangered tortoise species, a victim of uncontrolled hunting. Come along to visit and feed these peaceful animals by yourself.
Clouded Monitor (Varanus Nebulosus)
Vinpearl Aquarium Times City offers visitors an opportunity to admire the clouded monitor (Varanus nebulosus) - a rare species of monitor lizard listed in Vietnam's Red Data Book. It looks like a giant gecko or iguana. The clouded monitor has a long neck and tail, robust and well-growing limbs, and a triangular head pointed towards the snout. Despite its heavy body, it is an excellent tree climber, thanks to its strong nails.
The world of state-of-the-art games allows children to have fun and relax.
Bumper Cars
As one of the most favorite games at VinKE, Bumper Cars brings joy and laughter to not only children but also to the adults.
State-of-the-art games
Featuring nearly 200 modern arcade game machines, VinKE is the perfect place for children to relax after long hours of studying.
Mirror Maze
The journey to decipher the mystery of the magic mirrors promises to be filled with laughter and surprises for your whole family.
Ball Gun Battle
The whole family will need to act in perfect teamwork to overcome the challenges while hunting the infamous pirates in this game. Run, duck, and fire your ball gun, then continue to rush through the unique interconnected buildings.
Fairy Land
This is where the whole family can have fun together while playing with the ball house, interconnected building system, swings, and merry-go-round. Fairy Land is also perfectly safe and suitable for children of all ages.
5D Cinema
Equipped with multi-directional moving seats and other surprising effects, the 5D Cinema promises to take children on a thrill ride of emotions at VinKE.
It also helps children enhance their willpower, become "dedicated, professional, and kind" citizens, as well as nurture their passion for creative arts.
Career Guidance Game Area
Fire Rescue
At VinKE's Fire Rescue department, children will learn the daily tasks of firefighters who risk their lives to protect other people and live by the motto "Courage – Bravery – Dedication."
Traffic Police
Allow your children to live their dream at VinKE as they perform the role of a traffic police officer. Here, they will learn that controlling the traffic will be "a piece of cake" once you have grasped road safety rules.
Mechanic Shop
For children, who love playing with cars, this shop introduces them to automobile repair equipment, how to mount car tires, as well as fundamental traffic signs for safe driving.
Oceanographic Academy
This institution will train children to become oceanographic experts who learn about the amazing secrets of the ocean. Here, children are also guided to create their own fish tanks.
Agricultural Academy
If your children love trees, enroll them into the Agricultural Academy, where they can learn to identify different plant seeds, plant their own trees and take care of their little green friends.
Television Network
At VinKE's Television Network, children will be given an opportunity to become directors, MCs, and editors working in the media industry. These activities help boost their confidence and communication skills to another level.
Creative World
Designed to be a space for children who love arts, the Creative World helps develop their imagination and creativity. By letting their children join artistic activities here, parents may recognize their hidden talents and have better career guidance for them in the future.
Little Chef
At VinKE's kitchen, children will learn about different countries' cuisines and how to identify common seasonings. They will also be taught how to prepare simple dishes, to help at home.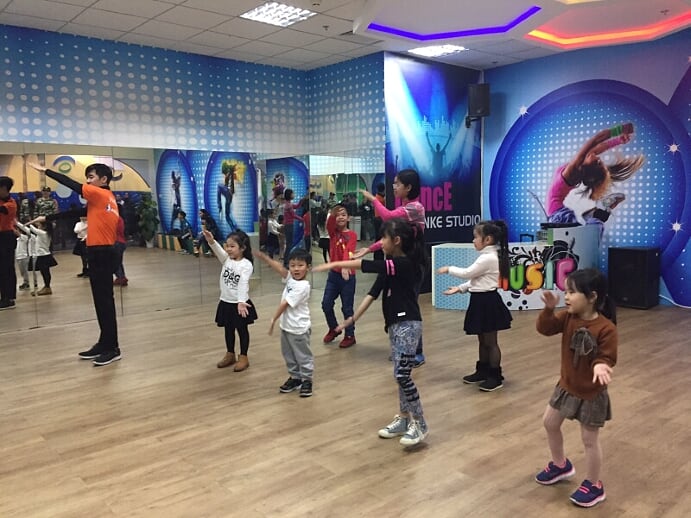 Step-up Dance Club
This club is where children can learn through basic to advanced dance moves and have their own stage performance like professional dancers.
Fashionista
Let your children learn to take care of their skin, apply makeup and become professional fashion models on VinKE's catwalk stage!
NEWS