Turn your device in landscape mode.

REASONS TO VISIT VINWONDERS NAM HOI AN
01
Step back in time to explore the quintessence of Vietnamese culture
Explore the original architecture of ethnic minorities such as E De house, Co Tu house, Bana house, Muong house, and Tay house.
Take a tour of Craft Village Street, meet artisans and listen to their stories.
Let yourself be carried away by the traditional art space with multimedia art performances and cultural shows recognized as intangible cultural heritage by UNESCO.
02
Take a river cruise and capture the semi-wildlife world in your sight
Explore the wild habitat with many rare species like Bengal tigers, white lions, sun bears, rhinoceros, etc
Get familiar and interact with friendly, hospitable giraffes and elephants
Visit the house of colorful parrots from South Africa
03
Challenge yourself with record-breaking games
Experience a thrilling fall from the 85-meter-high Swiss Tower – the tallest drop tower in Vietnam.
Reverse the world with 360-degree spins at a speed of up to 65km/h
Challenge your courage with Desert Twister Must-see events
Special events
18:45 - 19:00
Hill of Wishes
"The Legends of Great Viet" tells stories of the Origin of Viet People, Saint Giong, Mai An Tiem, and many other myths that have enriched the spiritual life of the locals throughout 4,000 years of history. With a perfect mix of sound and lighting technologies, viewers will follow the history of Vietnam through a spectacular 3D projection of the Co Loa Citadel.
Day-time events
Hat Then
14:45 - 15:00
Community Yard
Hat Then is a ritual on the brink of oblivion of the Tay, Nung and Thai ethnic minorities in the Northern moutains, which reflects spiritual ideologies about human beings, the natural world and the universe. It was Internationally recognized as UNESCO Intangible Cultural Heritage of Humanity in 2019.
Chau Van
Hat Quan Ho
"Sailing Home" Show
Resonance of Majestic Mountains
THE MUST-PLAY GAMES YOU DO NOT WANT TO MISS
Adventure Land challenges the courage of the adventurous people who want to break their limits through heart-pounding games at VinWonders Nam Hoi An. It promises to take you on an intense journey with more than 20 thrilling games.
Swiss Tower
This is a fantastic opportunity for visitors to take a journey of emotions with a thrilling fall from the 85-meter-high Swiss Tower corresponding to a 22-story building. The Swiss Tower was recognized as the high drop tower in Vietnam with a speed of 72.5km/h.
Desert Twister
This ride takes you through an exciting adventure and challenges your bravery with 360-degree spins and a speed of 19.8m/s!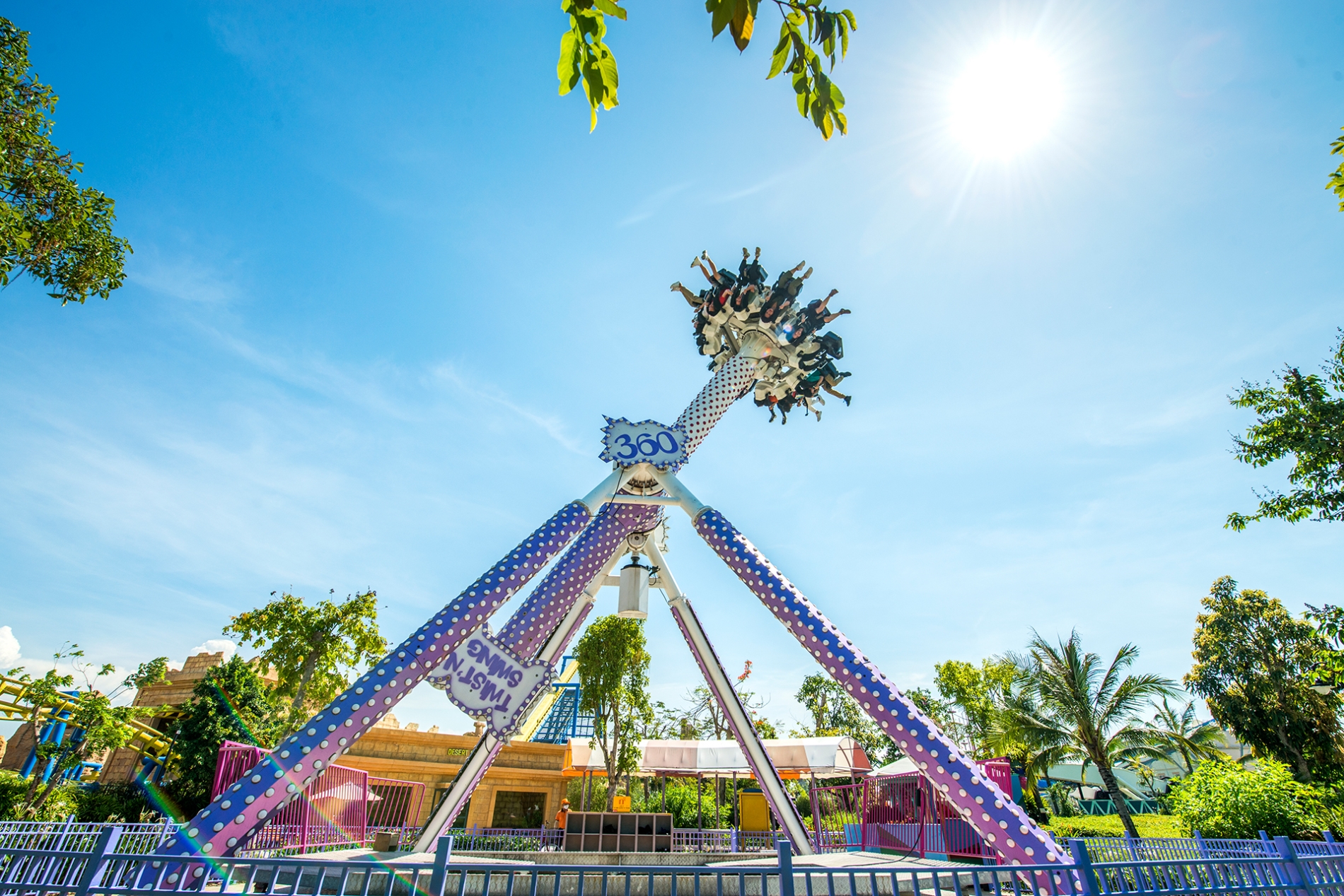 Upside Down
The Upside Down world will provide you with exciting moments when bringing you to a height of 31.5m, then rotating 360 degrees in the air and letting you fall freely at a speed of 65 km per hour.
An indoor entertainment paradise with more than 95 games is waiting for you. Get a "Ticket to Childhood" to enjoy magical and memorable moments in the fun-filled world of youthfulness.
Fairy Garden
A vibrant world of freestanding slides, ball house, indoor underground tunnels and recreational activities that stimulate the thinking and development of small children.
Audition Playoke
Audition Playoke is a special interactive dancing game with an exclusively designed sound and lighting system for Audition fans, who love dancing and can't sit still whenever melodies come up.
Trampoline
Trampoline is an inflated house which offers an exciting time for everyone when bouncing up in the air.
Dubbed as the "soul" of VinWonders Nam Hoi An, The Island of Folk Culture brings together the original architectural features of regions from North to South Vietnam and vividly reproduces traditional craft villages of Vietnam.
Craft Village Street
Meet artisans and listen to their stories at Craft Village Street to know more about the origin of traditional crafts and make souvenirs with national pride on your own.
The hub of cross-region culture
Explore the unique architecture of North, Central, and South Vietnam and the culture of ethnic minorities in the Central Highlands, vividly reflecting the domestic life, customs, and traditional rituals of ancient Vietnamese people.
The complex comprises coasters and a play pool for children, families and groups, including 11 exciting games to keep you cool in the hot weather. Gear yourself up to immerse in the "whirlwind" of first-class coasters and refresh at VinWonders Nam Hoi An!
Dragon Slide
12m in height and 120m in length, this slide offers winding twists of endless fun to couples and groups of friends.
Middle Bowl Slide
With a diameter of 18m, this thrilling game is likened to a giant black hole in the sky that swirls players into a spiral along with great speed and non-stop rotation, giving you a sensational feeling of riding on waves.
Giant Boomerang
With a length of 55m, this giant slide is a "must try" to relieve stress with family and friends.
It is where different spaces and times are inextricably entwined, and cultures meet. You will embark on an emotional journey to enjoy contrasting shades from the past to the present and from the East to the West.
Avenue of Dreams
A center of modern European architecture with the dancing canal houses of Amsterdam, the square-roof houses of Spain and Portugal, and the pitched-roof houses reminiscent of Russian castles
Riverside Old Town
This street recreates the signature architecture of Hoi An Old Town with historic ancient houses. Don't miss the opportunity to check in "miniature Hoi An" in the heart of VinWonders!
This is Vietnam's first and largest river safari, where 550 creatures from more than 50 species are cared for and preserved. Notably, thanks to an excellent habitat, River Safari has welcomed more than 200 F1 creatures in just five years of operation.
The World of Waterfowl
Are you ready to begin your journey to explore the kingdom of birds, including mute swans, black swans, black-necked swans, common shelduck (Tadorna tadorna), flamingoes, and painted storks? Then don't forget to turn on the camera to "capture" the natural moments of the beautiful, graceful "dancers" in the river!
Glassland World
Belonging to 11 species, with about 127 individuals from Savanna, Africa, animals from the grassland world such as antelopes, zebras, giraffes, elephants, and camels will surprise you with their friendliness and hospitality.
The Mecca of Carnivores
Get ready to explore the world of carnivores such as Bengal tigers, African lions, and sun bears. Do not be surprised to see super adorable but unapproachable F1 generations!
NEWS