Da Nang has many beautiful beaches, among which Non Nuoc Beach is a very prominent one. Once listed by Forbes Magazine as one of the most beautiful beaches on the planet, the charm of this beach has been attracting more and more tourists to come in recent years.
1. Where is Non Nuoc Beach Vietnam?
Non Nuoc Beach is located in Hoa Hai ward, Ngu Hanh Son district, Da Nang city. It is about 8 kilometers away from the center of Da Nang city to the southeast.
Although having been exploited for tourism for many years, till now, Non Nuoc beach still retains its inherent wild beauty. With fine white sand stretching for 5 kilometers, the beach is like a cool piece of silk winding gently at the foot of the Marble Mountains, which makes an extremely appealing natural scenery.
The waters of Non Nuoc Beach are quite secluded, so the waves are always calm and peaceful, which makes this spot a suitable place for swimming, relaxing and trying water activities.
2. How to get to Non Nuoc Beach Da Nang?
Routes
From Da Nang airport: Take Nguyen Van Linh road to the famous Dragon Bridge of Da Nang and continue onto Vo Van Kiet road. At the end of the road, turn right onto the coastal Vo Nguyen Giap road and go straight. At the intersection with Truong Sa street, make the turn and continue for about 2 kilometers to Non Nuoc Beach.
From Da Nang city center: Take Le Duan street and cross the Han River Bridge. At a roundabout, turn onto Pham Van Dong street and continue until you see the intersection with Vo Nguyen Giap street. Make the turn and go all the way to Truong Sa street. Now the route becomes the same as above.
Means of transport
Rent a motorbike: This is the suitable choice for those who like to freely explore around. There are many motorbike rental stores in Da Nang. You just need to give your ID paper as a deposit, pay the rent in advance, and you will have a motorbike to go. Rental prices range from VND100,000 – 250,000/motorbike/day (about US$4.5 – 11) depending on the type of bike you choose.
Take a taxi: This is a reasonable choice for those who want to avoid sunburn. Traveling by taxi is comfortable and cost-effective if you go to Non Nuoc beach in a group or family. In Da Nang, there are also many taxi companies, so it is quite easy to catch a ride.
>>> Book voucher, combo, tour to Da Nang in advance and plan a trip to this breathtaking beach!
3. What are the highlights of the trip to Non Nuoc Beach?
Here, you have a chance to try many interesting activities, such as:
3.1. Immerse yourself in the fresh seawater
An activity that cannot be missed when coming to this beautiful beach is to immerse yourself in the clear and cool water. Non Nuoc beach is totally free from pollution, the seawater is emerald green, the waves are calm, all of which makes it very suitable for swimming and playing in the water.
It would be perfect if visitors could come here in summer. Being immersed in the cool water, looking up at the sky and watching the sun shine will be the most relaxing, comfortable and unforgettable moment in your trip.
3.2. Participate in fantastic beach activities
Not only can you swim in the clear seawater, at Non Nuoc Beach, you can also participate in many exciting entertainment activities, such as windsurfing, beach volleyball, paragliding, parasailing, jet skiing, etc.
Or if you are not the adventurous type, you can take on elegant activities like fishing. To prepare your fishing gear and bait, sit down and sip a few cans of beer while waiting for the fish to bite would be a very poetic and chilling experience.
3.3. Take a walk to contemplate the breathtaking scenery
At Non Nuoc Beach, you can walk along the fine white sand stretch, admire the peaceful and poetic scenery and take some pictures to save these memories. Or if you are fond of exploration, go deep into the green casuarina forest to feel the fresh air and natural beauty that this place was bestowed with.
3.4. Camp overnight and watch the sunrise
An extremely interesting activity that has become more and more popular in recent years is camping overnight on the beach. It would be very memorable to spend the night in a small tent and listen to the sounds of the waves crashing and the casuarina trees swaying in the wind at one of Da Nang's most beautiful beaches.
And it couldn't be more wonderful when you and your friends stay in colorful tents close to each other, hold a party right by the sea with grilled fresh seafood on a charcoal stove, play music, sing and dance around the fire. When you wake up early next morning and catch the sunrise on the sea, you will be surprised to witness such beautiful natural scenery here.
3.5. Fill your stomach with delicious dishes from fresh seafood
After hours of fun and enjoyment, you can recharge yourself with attractive seafood dishes made from crabs, shrimps, squids, snails, etc. caught from the sea here. Rest assured that the seafood here is quite affordable. You should totally sit on the beach, next to the cool casuarina trees and enjoy the delicious seafood here.
4. Important notes to have a perfect excursion to Non Nuoc Beach
Before departing to Non Nuoc Beach, you should take note of the following:
The ideal time to come here is from April to September. This is the dry season when the weather is cool and pleasant with little rain, which is suitable for you to have a good and safe trip.
Going to a beach, you definitely need to bring items such as sunscreen, hats, eyeglasses, sandals, etc. In addition, swimwear and dresses are a must-have for girls to show off their charm and take photos at the beach.
Domestic and international tourists often combine Da Nang, Hue and Hoi An Ancient Town into an itinerary to Central Vietnam. While you are in Hoi An, it is highly recommended that you also visit VinWonders Nam Hoi An, a top-rated amusement park full of entertaining activities for you to try.
VinWonders Nam Hoi An has 5 subdivisions, all of which will bring you numerous exhilarating experiences:
Adventure Land: a place to test the courage of young people who love adventure, want to explore and conquer their limits through heart-pounding games.
Island of Folk Culture: a place that gathers the genuine architectural features of every region in Vietnam and vividly reproduces traditional Vietnamese craft villages.
Water World: a water park with slides and pool for children, families and friends, with 11 exciting games for you to cool the summer heat off.
Harbor Corner: a place where cultures meet. You will be immersed in a space of contrasting colors, with cultural features of the past and present, of the East and West.
River Safari: the largest and first river safari in Vietnam, home to more than 50 species and 550 individuals of animals which are preserved and raised with total care.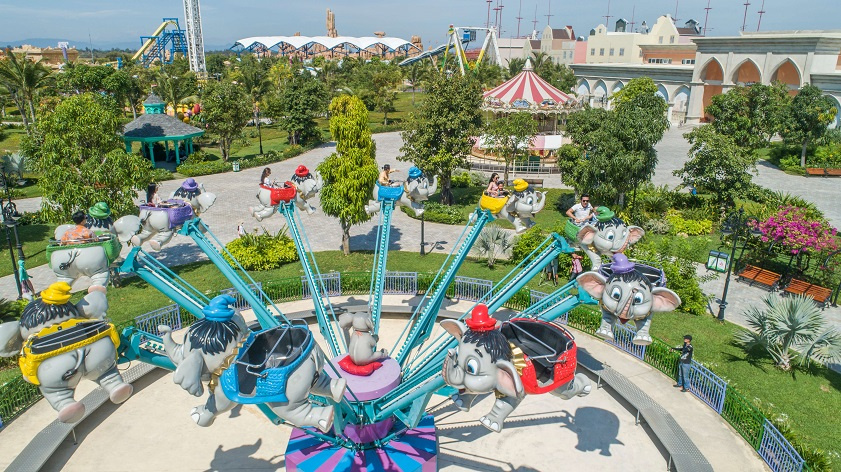 >>> Book tickets of VinWonders Nam Hoi An to have lots of fun at this world-class amusement park!
Having an easy-to-find location, beautiful and peaceful landscape along with many interesting activities, Non Nuoc Beach has been chosen by more and more tourists to be their holiday destination. If you have the opportunity to come to the mesmerizing coastal city of Da Nang, do not hesitate to visit this poetic beach and enjoy a trip full of good memories.
>>> Remember to book voucher, combo, tour to Da Nang in advance to grab the best deals and don't forget to book tickets of VinWonders Nam Hoi An to have your mind blown away at this wonderful park!